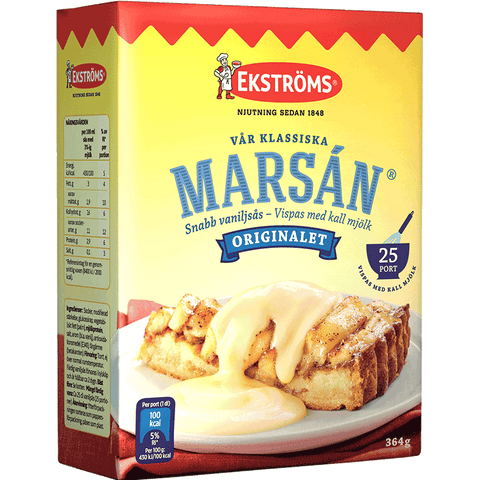 Ekströms Marsán® Quick Vanilla Sauce Powder, 91g
Dry vanilla sauce mix. Inspired by a trip to the French town of Marsan.
Whisk the dry product in cold, pasteurized milk. Let stand 5-10 minutes. NOTE! If you taste the sauce, never put the spoon or whisk back in the sauce, as the enzymes in the saliva will then destroy the sauce. Tip! If you want to make a more luxurious custard - stir in 1/2 dl whipped cream per portion in the finished custard. Vanilla cream: Take less milk e.g. 2 dl milk to 5 tbsp dry goods.  Makes 7 portions.
Sugar, modified starch, sunflower oil, glucose syrup, salt, aroma (including vanilla), MILK PROTEIN, colour (carotene). Contains milk.
Serving tips from Ekströms: Are you someone who eats pie with custard - or custard with pie? No matter who you are, you are guaranteed to toss together this apple compote in no time by frying diced apple pieces soft in a dollop of butter with cinnamon and a little sugar. Then wrap with crumbled cakes and Ekström's vanilla sauce in tall glasses or serving bowls.
Made in Sweden.
---
We Also Recommend