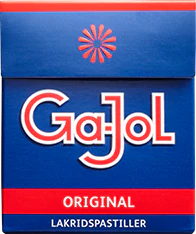 Ga-Jol Licorice Pastilles Original Travel Edition, 8 x 23g
8 23g boxes of original flavour Ga-Jol licorice pastilles.
Mild and fresh licorice pastilles with a touch of menthol. Ga-Jol is Denmark's most popular licorice pastille and over 600 million pieces are eaten every year.
Ga-Jol Original was launched as a pastille against hoarse throat and coughing in 1933 under the slogan 'The Danish weather is Ga-Jol weather'.
Product of Denmark.
---
We Also Recommend