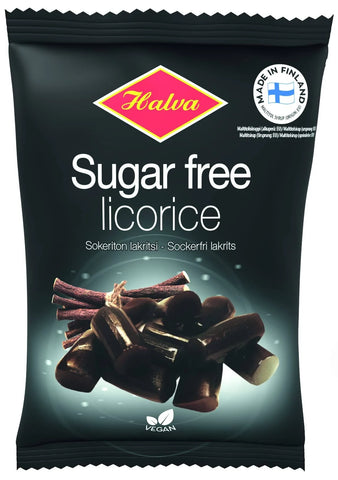 Halva Sugar Free Licorice, 90g - Case of 30
Halva Sugar Free Licorice is sweetened with malitol, a natural sweetener made from cereals.
Product of Finland. 
Please note that this sugar free licorice has a slightly different nutritional content from the white bag. 
Ingredients
Malitol syrup (corn and/or wheat, origin EU), WHEAT FLOUR, licorice extract (2%), flavours, colour (sulphite ammonia caramel), thickener (guar gum), preservative (potassium sorbate), salt, glazing agent (carnauba wax). Excessive consumption may produce laxative effects. Allergens: WHEAT, GLUTEN.
Nutritional content (per 100 g black bag)

Energy 325 kcal / 1314 kJ
Fat 0.5 g
- of which saturated 0.1 g
Carbohydrates 85 g
- of which sugars 0.5 g
- of which polyols 31 g
Dietary fibre <1 g
Protein 3.5 g
Salt 0.08 g
---
We Also Recommend